(CNN) Scientists at NASA have discovered a nearly invisible ring around Saturn -- one so large that it would take 1 billion Earths to fill it.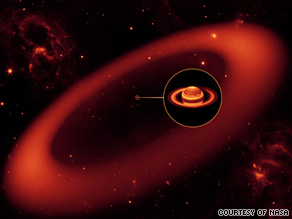 NASA's Spitzer Space Telescope has spotted a massive, nearly invisible ring around Saturn.
Its diameter is equivalent to 300 Saturns lined up side to side. And its entire volume can hold one billion Earths, NASA Jet Propulsion Laboratory said late Tuesday.
The obvious question: Why did it take scientists so long to discover something so massive?
The ring is made up of ice and dust particles that are so far apart that 'if you were to stand in the ring, you wouldn't even know it,' Verbiscer said in a statement.
Also, Saturn doesn't receive a lot of sunlight, and the rings don't reflect much visible light.