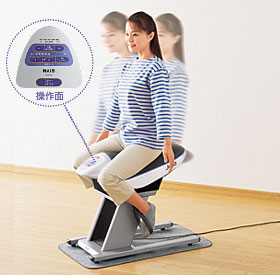 Horseback-simulation machines have become one of the hottest fitness trends in Japan, with a sharp rise in sales and a three-week wait for buyers to get hold of the Joba. The machines are heading over to the U.S., too. After renaming the Joba the "core trainer," Matsushita Electric Industrial Co. began marketing it under its Panasonic brand in January, landing it in catalogs like Hammacher Schlemmer and a few U.S. fitness clubs.

Part of the attraction, for a country with an aging and increasingly sedentary population, is that a Joba workout doesn't take much effort. "I ride the Joba when I'm feeling a little tired because I can get exercise just by sitting on it," says Fukatsu. Marketers pitch the machine, which was designed to fit into a living room, as something that can easily be used while watching TV.

But the machine does provide a workout. Using it for about 15 minutes a day, three days a week tones muscles, improves posture and increases metabolism, according to studies by Matsushita and a handful of universities. Fitness experts agree that the Joba can help work a limited set of muscles. Toru Nakayama, a Tokyo personal trainer who participates in jujitsu competitions, says, "It's better than nothing because it'll help tone the middle area and thighs," though he adds that running is more effective for people who want to lose weight.
More
.